What We Are Doing Now
Faith Community Forum

May 10th, 2022  -  7:00 — 9:00 PM, Sanctuary
All are welcome join us for our Faith Community Forum Featuring Candidates for Sonoma County Sheriff on May 10 from 7:00—9:00 PM. Our purpose is for Sonoma County's faith communities to meet these candidates and have an opportunity for personal exchange. The event is non-partisan, and no endorsements will be made. All candidates will be given an opportunity to make their appeal and to answer prepared questions from the audience.
A recording of the event is now available.
Our Commitment to Racial and Social Justice
In response to one of the greatest moral challenges of our time,  a group of leaders in our church committed to study, discuss, pray, and seek God's guidance on how we might respond to questions raised about racial equity and justice. We read books, watched videos, and discussed our personal experiences related to race and discovered how much we have to learn.
Session Proposal
Four members of our group addressed Session (our governing body) proposing we make racial and social justice a two-year, strategic goal of our church, with the following threefold emphasis: 
Essential Components  
Our approach will be biblical and invitational.
Education is essential. We have learned that it takes a shared vocabulary in order to carry on a meaningful and productive conversation about racial concerns.
Relationship building is necessary to understand the experiences of others whose lives may be different than our own.
Community participation is required for racial equality and justice to be advanced throughout our immediate community—in education, health care, leadership representation, housing, policing, and income disparities. 
Meet The Anti-Racism & Social Justice Team
Included in Session's motion was the formation of an Anti-Racism and Social Justice Team to provide leadership and coordination of this goal to be led by elder Laurel Quast and team members: Keedra Carroll, Penny Cleary, Dale Flowers, Michelle Huntley, Kathy Karlen, Rich Mason, Paul Palmatier, Peter Schell, Allie Shoulders, Tim Stafford, Emily Stockert, Jan Thomas, Mark Thomas, Paula Umino, and Lesley Van Dordrecht.
Lesley Van Dordrecht
Laurel Quast
Tim Stafford
A conversation with Allie Shoulders and Jan Thomas
Growing Up Chinese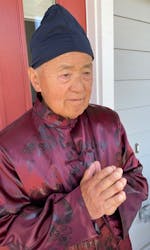 Leonard Lew was the speaker at our summer lecture series, EnglightenUp! in 2021.  Lew, who is 80, grew up in San Francisco's Chinatown. Cameron House, the Chinatown social service center founded by Presbyterians in 1874, played an important part of his developing years. He is retired from a career teaching science. He spoke with great honesty and vulnerability about the early history of Chinese in America, about Chinese in San Francisco, and about his own upbringing. He also shares his feelings about some of the despicable acts that have been perpetrated toward Asian Americans since the Covid-19 pandemic began.  His goal was to share "thoughts on second chances and God's grace," and we think he did so beautifully. 
Frequently Asked Questions
Q: Why use the term "Antiracism"? Isn't it better to be "pro" something?
A: The term antiracism is used to convey the idea that racism isn't something to be neutral about.
-----
Q: I was raised to be colorblind when it comes to race. I don't see color or race. Isn't that enough?
A: The ideal of being colorblind is an ideal that ignores the experience of people who are not white. The intent of being colorblind is good yet many people who are not white have indicated that not seeing color or race does not help them to feel included and ignores their experience.
-----
Q. Isn't talking about race divisive? And isn't it intended to make white people feel guilty?
A. A hearty NO to both of those questions. Talking about race is difficult, especially when we have not been taught how to do so. Talking about race makes most of us a bit uncomfortable. Uncomfortable does not mean that anyone is asked to feel guilt or take responsibility for actions of the past in which they had no part.
-----
Q: What is the intent of the Antiracism and Social Justice Team?
A: The intent of the Antiracism and Social Justice Team is to consider what the Bible has to say about racial equality and justice, particularly the implications from Genesis 1 that humankind is made in the image of God. Our approach is Biblical, invitational and educational in manner. We are all learners in this process.
-----
Q: What do you expect or want of me in this process?
A: Our team has been engaged in prayer, reading scripture, reading from a variety of both Christian and secular authors, listening and discussing together, learning from the experiences of people who are not white. We invite you to join us in this process.
-----
Q: What do you want from me after that?
A: What happens after that would be between you and God.
-----
Q: Isn't the topic of racism and social justice a political topic?
A: We believe the topic is to be thought of in terms of our relationship with Jesus Christ. As in all areas of our lives as Christians, the question for us is, "What does God have to say about this?"
What We Are Reading, Watching & Discussing
Books, Documentaries & Movies
The Color of Law: a Forgotten History of How Our Government Segregated America 
By Richard Rothstein, Liveright, 2017
I thought I knew the history of racism in America pretty well. Rothstein brings out a history I knew nothing about: the way in our government--yours and mine--created segregated housing right up until almost last week. Rothstein is a lawyer, and he deals in facts. Point by point he shows how our government made it extremely difficult for Black people to buy a house. Quite a few of the cases he details are right here in the Bay Area. This has huge implications: segregated housing leads to segregated schools, leads to run-down neighborhoods full of crime and health hazards, leads to a failure to accumulate wealth. If you don't want to believe in systemic racism, you shouldn't read this book.
Recommended by Tim Stafford
Letter From a Birmingham Jail
By Martin Luther King, Jr., Penguin, reprinted 2018
Dr. King wrote this letter in response to criticism of his actions by eight white members of the clergy, which had been printed in a local paper.  At that time, Dr. King had been asked to come to Birmingham, and he was in jail after being arrested for civil, nonviolent disobedience
A key message that had an impact on me was that he felt that the silence of the white church was even more troubling than the action of the extremist segregationists such as the KKK.  Dr. King says that the silence of the white moderates amounts to support for the continuing acts of violence and injustice against the black community. 
As I reflect on the circumstances and the killing of unarmed black citizens over the past several years, I have become aware of the inequality of institutional racism, the redlining of sections of cities, the white privilege of the GI bill, and the open and subtle injustices of our America.  I believe it is important for me to become better educated and aware, and to not be silent.
Recommended by Paul Palmatier
Little Leaders, Bold Women in Black History 
By Vashti Harrison, Little, Brown 2017   
This is a beautiful book that lists 40 remarkable black women for young readers. There also is a book that lists remarkable black men that is great for older child and adult. The author states that during one black history month, she decided to do a summary of the highlights from the lives of these women herself. She shares the stories of a very small percentage of the remarkable black women in history.
Recommended by Kathy Karlen
Tatoos on the Heart
By Gregory Boyle, Free Press, 2011
Jesuit Priest Father Greg works with gang members in LA and he founded Homeboy Industries.  His heart goes straight into the hearts of these young people who grow up in gangs.  His stories of these encounters are deep, honest, sacred and humorous.  They brought my own heart and tears of joy, laughter and heartbreak right into the center of his love for these - God's children.
Recommended by Jan Thomas
The Hidden Wound 
By Wendell Berry, Counterpoint; 2nd edition, May 18, 2010
In this short book, written in 1968, Berry writes passionately and thoughtfully about his childhood on a farm in Kentucky in the 1930's and 40's and of his admiration and deep friendship with an older black man who worked on the farm, Nick Watkins.  Jim Crow laws and long standing racial prejudice placed serious limits on Nick Watkins' freedom and choices, an injustice that Berry, as a child was able to identify with his feelings but never found a way to process or unravel.  Of course his wounds (or mine, as someone who observed similar things in the American south of the 1960's and 70's), should never be compared to the suffering and pain of a whole group of people that has been denied freedom and justice for centuries.  Nevertheless, they are still wounds that must be examined.  Otherwise, they will continue to exert unpredictable influence in our thinking and do great damage to our souls.  This book traces the unraveling of Berry's wounds, while paying a loving tribute to Nick Watkins; it also documents some of the policies and justifications that created and compound racial injustice and how we might move toward restoration.
Recommended by Allie Shoulders
The Warmth of Other Suns
By Isabel Wilkerson, Knopf Doubleday, 2011
This book is a historical account of the movement of African Americans from the Southern States to the Midwest, Northeast and West.  This historical period is called the Great Migration.  It took place between 1915-1970.  This book features the history of the event, a history which most of us did not learn, and the personal stories of three Black Americans and their transition to life outside of the South.  While based on much historical research, at times it reads like a novel.  It is also available in audiobook.
Recommended by Laurel Quast
When Stars are Scattered 
By Victoria Jameison and Omar Mohamed, Dial Books, 2020
I would like to recommend a graphic novel that I recently read together with my daughter. While not strictly about racism in America, this book made me examine my privilege as a white American in a new way and has influenced our family conversations about privilege and justice in a way that has moved us towards more activism. When Stars Are Scattered is a true portrait of the life of young boy in Kenyan refugee camp as told by a Somali refugee. Don't let the comic book style fool you – When Stars Are Scattered is an extraordinary book for all ages.
Recommended by Emily Stockert
White Awake
By Daniel Hill, IVP 2017
If you are looking for a biblical, Christian perspective on racial justice, this is the book for you It focuses on how the narrative of racial difference has affected our sense of identity as white Americans. We don't notice it because it is the air we breathe; it so permeates our life experience. We are encouraged to go through a Holy Spirit-led process of awakening, to become awake to the realities of race, ethnic identity, and our call as Christians to help repair our interracial relationships and the structures that mediate them.
Hill outlines seven stages to expect in our path to cultural awakening. It is a process! Reading this book gave me a new perspective on being white and a new appreciation for others' cultures and cultural experiences. It is a call to reconciliation and freedom, not shame and guilt. Hill is someone I admire, and I think you will, too. There are discussion questions for each chapter, so it would be a powerful book to read with a group or a friend.  
Recommended by Lesley Van Dordrecht
White Fragility: Why It's So Hard for White People to Talk About Racism
By Robin DiAngelo, Beacon Press, 2018
This is an uncomfortable but valuable book for white folks to read. The author says early in the book of most white people that 'Given our racial insulation, coupled with misinformation, any suggestion that we are complicit in racism is a kind of unwelcome and insulting shock to the system.' This book is the kind of shock that I needed, and I think many of us who live in Sonoma County where we have almost no contact with black people could use.
Recommended by Mark Thomas