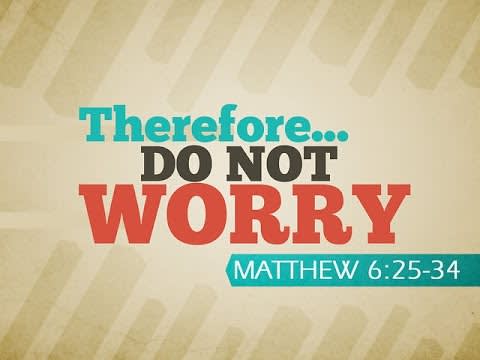 Do you spend much time worrying? What do you worry about? Financial security or insecurity, your health, your children or grandchildren, your aging parents, your career, your work? Jesus speaks about worry and anxiety at some length in this section of his Sermon on the Mount. Six times in this passage Jesus counsels us not to worry, not to be anxious. He also offers three reasons why worry should be avoided and two strategies for overcoming it. To begin with, why avoid worry?
Jesus' first reason to avoid worry is that it betrays a lack of trust in God. He makes an argument from the greater to the lesser. Since we are of great value to God, won't God also provide what we need to sustain life? He then moves to argue from the lesser to the greater. If God cares for the birds of the air, which neither sow nor reap, nor gather into barns, and yet our heavenly Father feeds them. Aren't we of move value than they, since we are created in God's own image? Next, Jesus uses wild-flowers to illustrate that if God so clothes the flowers of the field, which have very brief lives, will he not much more clothe us?
A second reason Jesus advises us to avoid worry is that it accomplishes nothing. He asks, "Can you by worry add a single hour to your span of life?" The obvious answer is, "No." Actually, worry is likely to cause health problems which are likely to shorten our lives! Worry can damage the heart, the digestive organs, and contributes to ulcers, hypertension, heart disease, stroke, and possibly cancer.
A third reason Jesus tells us to avoid worry is that it's unnecessary! He told his listeners, "The Gentiles strive for food and clothIng; and indeed your heavenly Father knows you need all these things." Jesus says God already knows our needs, so we don't have to worry about them.
Finally, what two strategies does Jesus offer us to the problem of worry and anxiety? To begin with Jesus advises, "Strive first for the kingdom of God and his righteousness, and all these things will be given to you as well." British pastor/scholar John Stott defines the kingdom of God: "It is Jesus Christ ruing over his people in total blessing and total demand." So we are to invest ourselves in God's kingly reign, serving Christ and submitting to his will, confident of God's power to meet all our needs.
A second strategy for defeating worry is found in verse 34, "So do not worry about tomorrow, for tomorrow will bring worries of its own. Today's trouble is enough for today." So Jesus encourages us to live one day at a time and refuse to address future challenges in advance, saving us lots of needless anxiety and worry! Abraham Lincoln was a person who took Jesus' words about worry seriously. Once asked before his inauguration whether the U.S. would have a civil war, Lincoln answered, "In my circuit riding days, I had to cross many swollen rivers. One was the Fox River. We crossed many of its tributaries, but got worried because it still lay ahead of us. We stopped for the night at a tavern and met a Methodist presiding elder who knew all about the Fox River. So I asked him about the present state of the river. He answered me, "I know all about the Fox River. I've crossed it often. But I follow this fixed rule: "I never cross it till I reach it." May Jesus' words encourage us to spend less time and energy worrying!
Published on December 14, 2021