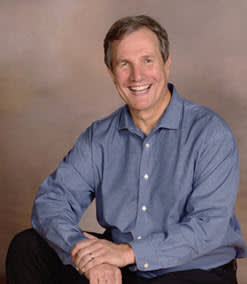 With the results of Tuesday's presidential election still uncertain, one thing is clear – our country is politically divided down the middle. Without a doubt that difference of opinion and political preference is present within our congregation along with other churches in America. As people of God it is important how we respond to post-election life. Our directives are clear as followers of Christ for us to choose love over disagreement and distrust; to discern what is best rather than advocate for what we want; and to do whatever is right for the sake of our relationships with one another in Christ.
Throughout the presidential campaigns we have heard both sides appeal to us voters to align with their particular assessment of America. You could say that elections are about voters choosing to change what we cannot accept – either the present administration or the proposed alternative. But after the election and campaigning have ended, it is time for us to accept what is no longer in our power to change.
Reinhold Niebuhr is considered the most prominent American theologian and leading voice of the American conscience of his time. He taught and wrote during the tumultuous years of America's history – from World War 1 through the Vietnam War, from the Great Depression through the Civil Rights Movement. Niebuhr became famous for his writings and speaking on human nature and its relationship to political movements and social justice. But he is most known for a prayer he wrote. Most people are familiar with the opening words to the prayer and commonly refer to it as the Serenity Prayer. Here is the original prayer in its entirety:
God, give us grace to accept with serenity the things that cannot be changed, courage to change the things which should be changed, and the wisdom to distinguish the one from the other. Living one day at a time, enjoying one moment at a time, Accepting hardship as a pathway to peace, taking, as Jesus did, This sinful world as it is, not as I would have it, Trusting that You will make all things right, if I surrender to Your will, So that I may be reasonably happy in this life, And supremely happy with You forever in the next. Amen.
What makes this prayer so compelling is that it combines a realistic view of human nature – praying for "serenity to accept the things that cannot be changed" with an idealistic commitment to social justice – praying for "courage to change the things that should be changed" in a time of moral ambiguity that requires humility and discernment – praying for "wisdom to distinguish the one from the other."
Learning to accept what is true about us is the first step of moving toward recovery and living free of what controls us. This line tells the story of who we are as humans with a sense of compassion for our brokenness and our need for grace to accept with serenity what cannot be changed (at least by us). This acceptance opens us to the redemptive power of the gospel.
To change what should be changed takes courage, especially when being complicit or compromising truth for our own self-interest is commonly accepted. The Apostle Paul combatted such self-interest in the church in Philippi. Class and social distinctions had resulted in a conflicted congregation. In chapter 2, Paul asks the congregants to follow the direction of the Holy Spirit and their self-sacrificing savior when he tells them to look out for one another rather than their own self interests. This is why he prays at the opening of the letter (Philippians 1:9-11) for their love to increase so that with knowledge and insight, they might not only love much, but love one another well. The key for Paul is their ability to discern what is best and carry it out. Then they will live a life Jesus would be proud of – a life that results in growing and flourishing relationships.
May we know the serenity of accepting what we cannot change; may we have courage to right wrongs that we encounter that should be changed, and may God give us humility and discernment to know the one from the other.
Published on November 5, 2020