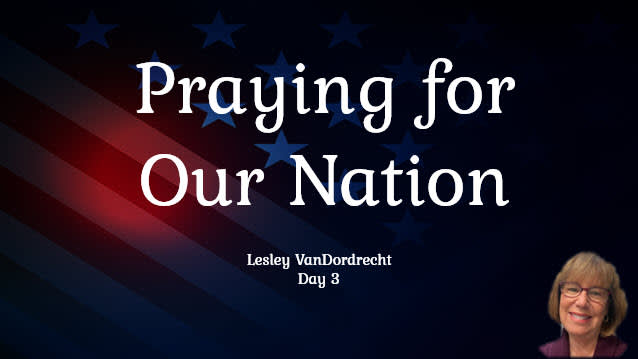 Today we are three days away from election day. The deep divisions that have characterized our nation for several years have been exacerbated throughout the long campaign season. This has exhausted us emotionally, adding stress to our daily lives. We may feel alienated from those with whom we disagree, and at times angered by their words and actions.
In the first century after Jesus came, such divisions also occurred, such as the divide between Jews and non-Jews. God's law was given to Israel to promote justice and establish the way to holy living, as Lynn Cohick writes in the NIV Justice Bible. But aspects of the law became ethnic boundary markers that threatened to divide Christ's church body into the Jewish camp and the Gentile camp. But over and against that division, Christ's death creates unity, because Christ's resurrection promises us new life together with all believers, who come from any and every background.
In Ephesians 2:14-16, the apostle Paul explains this to Christians who are struggling with division. He tells them,
14 For Christ himself is our peace, who has made the two groups one and has destroyed the barrier, the dividing wall of hostility, 15 by setting aside in his flesh the law with its commands and regulations. His purpose was to create in himself one new humanity out of the two, thus making peace, 16 and in one body to reconcile both of them to God through the cross, by which he put to death their hostility.
Jesus is in the business of reconciliation. As his disciples, let us follow His example. Join me now as we pray for peace and unity for our nation, in the aftermath of election day:
Dear Lord, thank you for the peace and unity Jesus has already brought to the Church, if only we embrace it! We ask for you to also bring peace and unity to our nation. We ask for a safe, orderly election and transition out of this campaign season for our tired country, beset as it is by increasing cases of Coronavirus, economic insecurity, struggles for justice for all, and even violence in some communities.
In the outcome from the election, Lord, we pray for your will to be done. We each have our hopes for specific outcomes, but we know that you alone know what the future holds. We want to trust you for it, God. Increase our faith and our sense of being lifted and cared for by you. We want to set aside our differences and be peace-makers. Give us wise words to diffuse anger and hatred when we hear or read it, and to help others move beyond campaign strife in the aftermath of the election. Protect people all over America in these days ahead, and keep our communities and streets safe. We are so grateful for the freedoms we enjoy in our country, and we pray that people exercise them in ways that honor you and value one another.
In all that we do, we want to remember your Lordship. We are Americans, but first, we are citizens of your Kingdom, and members of your household. As such, we have received your indescribable gifts of grace and forgiveness. Remind us to also grant grace and forgiveness to others, regardless of our different opinions and convictions.
Lord, we put ourselves and our beloved country in your hands. And we pray that you will protect and defend us, bind up our wounds and heal our divisions. And may we be equipped to serve you, to partner with you, in this good work of reconciliation.
We pray in the name of Jesus, our Savior and Redeemer, who is our Peace, Amen.
Published on November 1, 2020