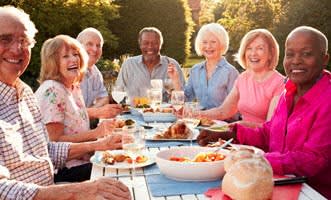 Dinners for 7 or 8
Getting to know people over a shared dinner together in their home or yours (or even at a restaurant or park) is a perfect way to relax and enjoy some conversation. All adults are welcome! We will place you in a group, which will meet three or more times over several months. The end result is more personal relationships with more people in the church.
---
What others have to say about the Dinners for 7 or 8 experience…
"We came to First Pres almost 4 years ago. We were coming from a very small church where everyone knew everyone else. It can be difficult to navigate, plug into and feel at home at any new church, let alone one the size of First Pres with 3 different Sunday services and the myriad of classes, ministries and other offerings we are blessed to have. Thankfully we signed up for Dinners for 7 or 8. What a great way to get to know several other fellow brothers and sisters. We thoroughly enjoyed our meetings which included sharing a meal and time to get acquainted. What a relaxed, hospitable and stimulating experience we had. The people at First Pres are the best – and Dinners for 7 or 8 is the best way we know to get to know some of them. Give it a try!" Vic and Chemi Suard
"When my husband and I started at First Pres, it was difficult to get to know people. We were drawn by the fabulous music and excellent sermons but wanted to connect more with the people. We would attend church but just see a sea of unfamiliar faces.We heard about Dinners for 8 and after some discussion decided to give it a chance. This was new territory for us so we were both excited and nervous about the whole thing. Would we feel awkward at dinner not knowing anyone? Would everyone just talk about church stuff? We weren't members at the time, would we feel funny about that? I'm happy to report after many, many Dinners for 8, the experience has been AWESOME. We have gotten to know many wonderful people by name. Now when we go to church we see a sea of "familiar" faces and we feel part of a community!" Bruce and Marti Wilmes
---
Still not sure about what to expect or have some questions?
Come to the information table in Ingram Hall on Sunday, February 2 to get your questions answered. You can sign up there or at the Connect Center. You can also register online here through February 16th. All who register by February 16 will be included and placed in a group. After we organize groups, the initial leader will contact everyone to set an agreed-upon date for the first dinner.
Published on January 27, 2020