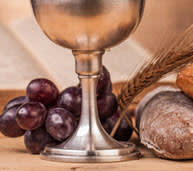 I am something of an amateur chef. Scratch that. Sounds too fancy. What I mean is I am a home cook that spends a lot of time thinking about food and cooking. I enjoy preparing food for other people. To see someone's face light up because I made something delicious just for them makes me happy.
Luckily, my son is a good match for me in the kitchen…because he loves to eat. He starts hovering around the kitchen in the early evening, and eventually says some of my favorite words, "Mmm. I'm excited for dinner!" When this happens, I feel all warm and fuzzy, even though I'm the one doing the work at the stove!
In fact, there's some science behind the idea that offering food to another person (not just eating but sharing food with another) is an expression of empathy that is good for both parties' emotional well-being, such as giving a child milk and cookies after a hard day at school or bringing a casserole to a grieving friend. The offering of food between people can help regulate the emotions of both the person giving the food and the one receiving the food, according to the 2014 scientific article "Food for love: the role of food offering in empathic emotion regulation." Basically, research says that the giving and receiving of food helps us increase "intimacy, friendship, and love."
I know not everyone enjoys cooking. Getting food on the table is a stressor for some. Even so, as humans, we all eat. And most of us have some kind of food that makes our eyes light up, comforts us, and makes us feel loved.
As a Christian, I like to think of the connecting power of food as one of God's gifts given to us. After all, Jesus spent a lot of time feeding people and eating with them. He offered food to thousands as they listened to his messages (Matthew 14:13-21; Mark 6:30-44; Luke 9:10-17; John 6:1-15), he ate with sinners and outcasts (Matthew 9:10-17), and he had a last meal with his disciples, sharing bread and wine as his body and blood, before his crucifixion (Matthew 26:24–25; Mark 14:18–21; Luke 22:21–23; John 13:21–30). After his resurrection, the scriptures tell of Jesus making himself known to his followers in the breaking of the bread, as well as of his appearing to the disciples and cooking breakfast for them (Luke 24:35; John 21:1-14). Whenever Jesus feeds people and eats with them, Jesus is increasing their sense of intimacy with him and demonstrating his friendship and love.
We are included in this circle of friendship and love with Jesus Christ through the celebration of communion. Communion, also called "The Lord's Supper" and "The Eucharist" is "the sign and seal of eating and drinking in communion with the crucified and risen Lord (Book of Order 94)." At the communion table, we gather as a united people, receiving and trusting in the love of Christ present to us in the meal and in the world. Receiving communion gives us the spiritual sustenance of God's love so that we may go out into the world to love and serve God and our neighbors.
In our denomination, the PC(USA) [Presbyterian Church USA], we believe that all are to be welcomed to the table and none shall be excluded for reasons of age, sex, race, language, or other reasons of injustice. The Lord's Table is a table of love, justice, and reconciliation.
At FPC, we express our belief that receiving communion is for our whole faithful community in a few ways. One is by making sure that our children at FPC are invited to receive communion with their families. On the first Sunday of each month (the day we celebrate communion), our Kids' church teachers bring our school-aged children to join their families in the "big church" after their Bible lesson. Two, we offer a gluten-free bread and cup for those with food sensitivities. Three, our caring ministries team brings communion to members of our community who are homebound or ill.
Gathering with the community at the table is the lifeblood of Christian fellowship. Some might joke that the donuts and coffee and juice after worship are the foods that draw us together. After all, sharing food brings us closer with family and can make strangers into friends. Truly, the communion table is at the heart of the church. In the bread and cup, Jesus Christ meets us with intimacy, friendship, and eternal love.
Thanks be to God.
Published on January 3, 2020