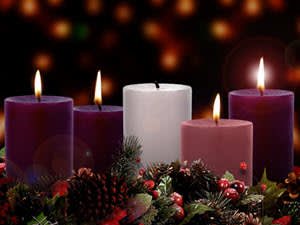 A few days ago, on December 13th, I was asked a casual question that caused me to be perplexed and sad. As I was completing my grocery payment using the debit machine, I heard the check-out clerk ask me, "Is your Christmas done?" I didn't give an answer, because I couldn't relate any meaning to the arrangement of her words. From the look on her face I could tell she either didn't think I heard her, or I didn't speak English.
She repeated her question,
"Is your Christmas done?"
I thought to myself, if I explained what kind of work I do, then perhaps she might understand how my Christmas is far from done. But I realized that would not help answer the question, because we have two entirely different approaches to the observance of Christmas and two entirely different expectations of the purpose of Christmas. Still searching for the right words to convey my reply. I finally said, "No, I'm not." Either as a reflex or uniform politeness, I followed with a question for her, "Are you?" She was more than ready to answer as if the whole conversation had been initiated so she could give me her answer to her question. With great satisfaction she said, "Yes. I just mailed off the last two packages today."
The One I'm Still Waiting For
I couldn't bring myself to say congratulations. I was too sad that she didn't seem to know or care about the Christmas I observe or the One whose birth I'm still waiting for.
I'm familiar with the tension between Advent and Christmas. How people want to stop singing advent songs by the first or second week and begin to incorporate Christmas carols in our worship. Instead of Advent lasting four whole weeks of preparation and anticipation for Christmas, we choose to overlap them. My sense is not that the waiting is too prolonged, but that the celebration of Christmas would be too short and limited if we didn't start it sooner.
Yet this woman's version of Christmas was devoid of any sense of Christ or worship or waiting. It was nothing more than a series of commercial transactions and corresponding list of recipients. Even the aspect of exchanging gifts or a gathered experience was not part of her expectation for Christmas. She seemed relieved and pleased that she had completed her tasks and now, for her, Christmas was done.
I, on the other hand, walked away thinking what is yet to come: prayers I will make about the world's need of a savior; the three messages I am preparing about the awe of God's presence with us; the anticipated joy of sharing space, time, and meals with our grown children; the songs our church sings to celebrate the significance of Jesus' birth; and my own inner discipline of learning to let go and put my faith in God. I have reason to wait for Christmas.
Published on December 16, 2019