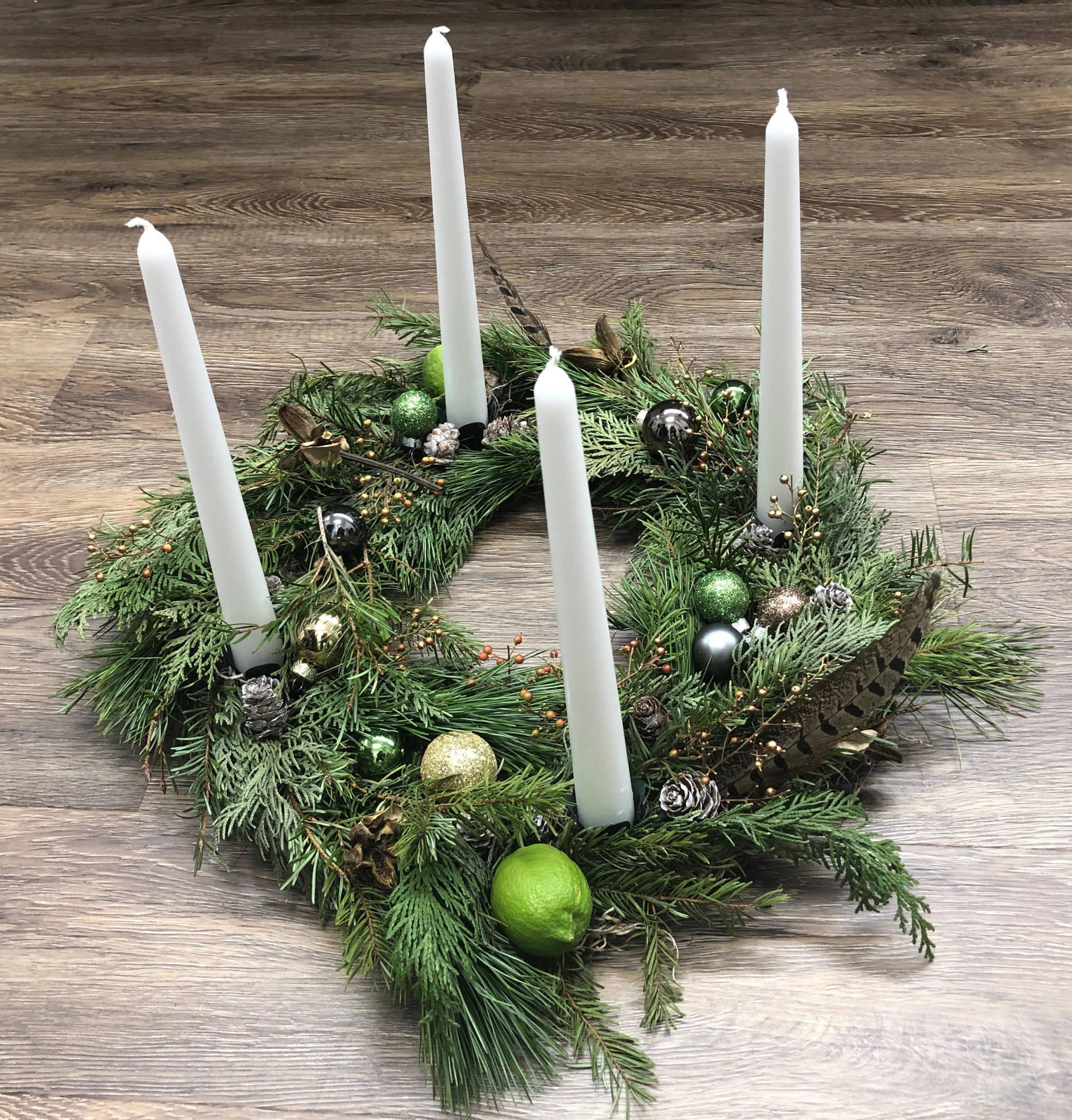 My girls are both college students currently living at home, but their schedules have them floating in and out of the house like passengers boarding the underground subway. While it's been like this for several years now, I've never let that stop me from continuing the tradition of creating an Advent wreath that we started so many years ago here at First Presbyterian Church when they were little.
For me, for them, for us as a family, our Advent wreath represents an invitation to slow down in the midst of the holiday rush and remember. To be present. To just be. Pause. Breathe. Again, remember. To remember the real reason behind all the glitz and bright lights, all the cheer and noise, and so forth. That it's not about any of that, but about all of it. Because it's about the Christ coming into the world. The same Christ that so loved the world, the world, all of it, you, me, them, all.
I don't think God really cares how you decorate your house, or what color scheme or color candles you use for your Advent wreath, or that you even make or have an Advent wreath at all. I don't think he cares about any of that. I believe he just wants us to stop running around and come back to him. To be with him. To take time and worship him. To remember and anticipate his coming, both then and one day.
An Advent wreath is just a tool, or better stated, a spiritual practice that we can use during Advent to help center ourselves and prayers to God during this season according to the liturgical calendar. And since I'm slinging around what 'I think' God thinks, (a very dangerous thing to do for sure, but hey), I'm sure he doesn't want us to be burdened with a 'complex' or 'one more thing to do' in order for us to come to him and worship him.
That's why I love our Advent wreath so much. My wreath invites me to come as I am, to stay as long as I like and as often as I want or need. It's there for me to come individually, it's there for us when we're all together to share a meal. When I lay down the expectations of 'it has to be done this way, everyday' in order to be done right, I am free to sit by it and enjoy the warmth and glow of the candles burning, and the reminder of life everlasting from the wreath of greens. I'm reminded that we are still a part of this world and all of humanity and sin, but am also reminded as we wait in anticipation through this season that the kingdom that we wait for has already begun, and that we are also waiting for the kingdom to be fully restored, and then my brain begins to feel fragile and mushy and I end up just being thankful and grateful and that's quite alright.
Would you like to join us and create your own Advent wreath this season? You are invited to our Advent Wreath Making Festival on December 1 at 4:30 PM - the first Sunday of Advent!
Published on November 26, 2019