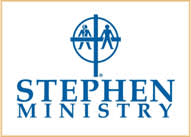 Over twenty-five years ago Daphne Fisher and I headed for a two-week training course in Berkeley, CA for Stephen Ministry Leadership Training. What an exciting time it was! We got to meet hundreds of people from all over the United States (including Joyce Bryant who was representing her church in Evanston, Ill. at that time) and those from denominations of all stripes. Our focus was on Caring, so never mind theological differences! We got to learn about developing a system of caring that was made for churches to better represent Jesus "with flesh on," and to help carry the load for the pastors. We had interesting discussions and learned from one another over dinner and during the various presentations. We then returned to FPCSR and started our own program of Stephen ministry.
Now more than twenty-five years later, with dozens receiving Stephen Ministry training, and hundreds of people receiving care, Stephen Ministry at FPCSR is alive and well. Our "Care Receivers" are often members of FPCSR or come to us through referrals from other churches or word of mouth from the community at large. They are single people, married people, young and old. They come because they want helpful listening support in a 1-to-1 relationship as they face employment/work related issues, strained relationships within the family and work, or health concerns. They don't want to face life's problems alone. They are you and me!
Stephen Ministry is a hidden ministry because it is so confidential. This is an essential cornerstone in the ministry so our care receivers can feel safe to share, knowing that their story won't go elsewhere. Our Stephen Ministers are trained in their listening skills and are given other tools to ensure they can give the best care possible. They are there to pray for and with their care receiver. Stephen Ministry is distinctively Christian in its care, reminding those who seek its help that God is with them throughout, regardless of how alone they may feel.
In September we will be offering a new Training Class, which gives those who feel called to the ministry a chance to get the training (50 hours total, mostly held on Sunday mornings). The training material is relevant in ALL our relationships - our marriages, our parenting, our extended family members, our friendships, our work, our neighborhood relationships. After you receive training, you might hear someone say, "Wow, you have really changed! You're listening!" Trainees often become close with whom they train. Later, as Stephen ministers, they may develop friendships with the confidential supervision groups that meet twice a month. And so, this ministry of caring becomes a wonderful community of support and friendship, as we encourage one another in our caring! That has probably been the highlight of my working in this ministry these many years.
Please contact me if you are interested in learning more popie@fpcsantarosa.org More information is also available to you at the Connect Center or you may request information here.
Published on July 8, 2019