My mom likes to tell people that when I was a small girl she feared I would never read. As a toddler I showed little interest in books and learning to read until one day I picked up a book and I haven't put one down since. By the time I reached middle school the most effective threat my parents had was to take away my books. I love reading - I savor the anticipation of new story like some people savor a glass of good wine. Cracking open the pages I long for the feel of the paper, the smell of the ink, the sounds of pages ruffling. As much as I appreciate the convenience of my Kindle, nothing compares to holding a physical book in my hands.
In the opening scene of Beauty and the Beast, the heroine Belle swans through a library as she searches out a book that will transport her far away from her ordinary life. This is the power of a good book – it transports the reader into another life. More than that it changes us in our current life, broadens our horizons, challenges us, tests us, refines us as humans.
The power of a good story is that it lets us see the world, experience life, through the eyes of another. All of the sudden we become a twelve year old girl in Rwanda, an old sea captain chasing a last dream, a young boy on his journey to adulthood. When we see the world through another's eyes our compassion and understanding grow, we find we have far more in common with others than we have differences.
In a world where we have so many constructed barriers between us – age, gender, race, nationality - reading breaks down walls. C.S. Lewis famously wrote in his book The Four Loves, "Friendship … is born at the moment when one man says to another 'What! You too? I thought that no one but myself . . .'" Through reading we become friends with strangers and with one another as we receive the gift of knowing we are not the only ones who see and experience the world the same way. We are less alone at the end of a story than we were at the beginning.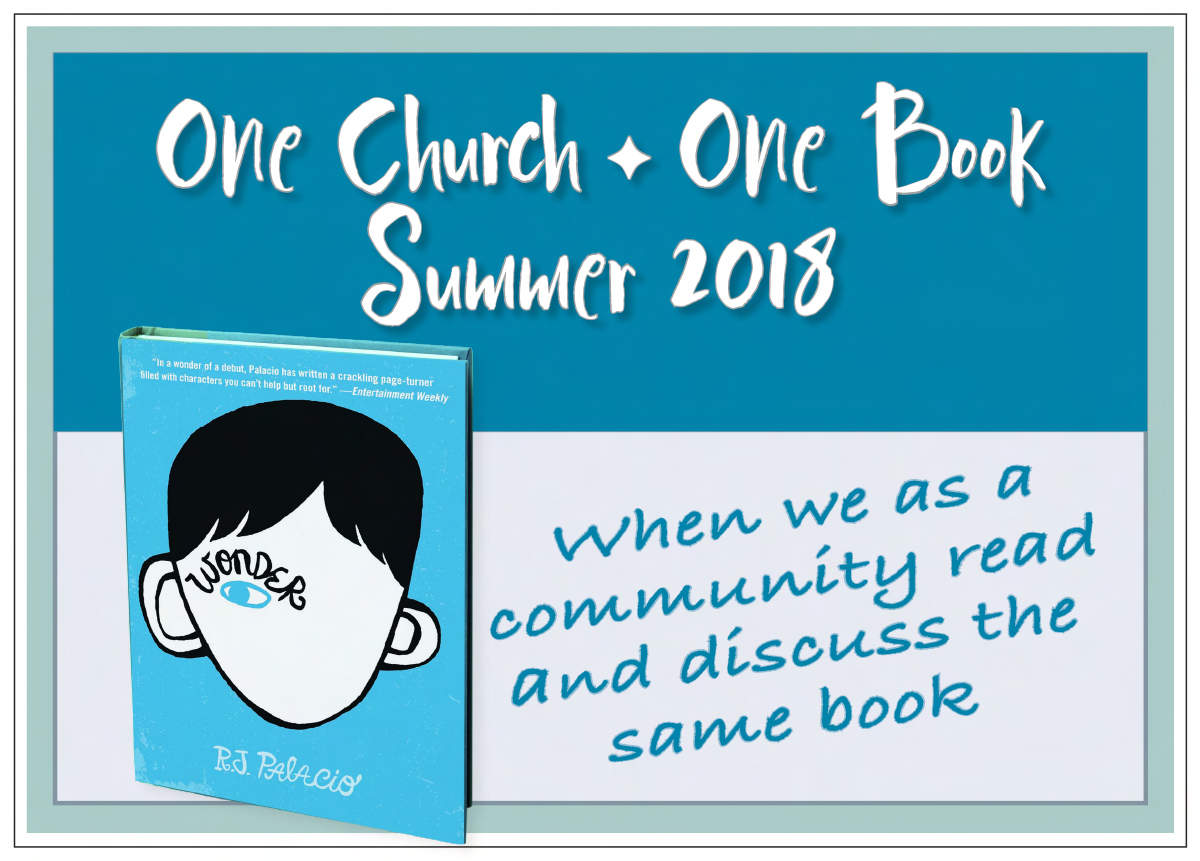 With this in mind, it is with great joy that I invite you to join and me and First Presbyterian Church as we continue with our summer tradition of One Church, One Book. Every summer we invite the congregation, friends, and strangers of all ages to join us as we read a story together. This year we are reading Wonder by R.J. Palacio. Wonder is the story of Auggie, a boy who wants nothing more than to be treated as an ordinary kid in the face of his differences. The book tells the stories of a community as it struggles with differences, and challenges readers, both young and old, to wonder about the true nature of empathy, compassion, acceptance, friendship, and—ultimately—kindness.
You can pre-order your book here to be picked up on June 17th
We also invite you celebrate the conclusion of our reading on July 29 at 5:00 p.m. as we gather together for dinner and a chance to watch the movie Wonder with friends and family!
Published on June 6, 2018